History of the Homestead Valley Land Trust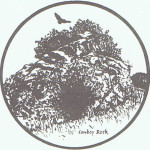 In 1964, much of the southern Marin Headlands was slated to be subdivided and covered with tract housing and high rise apartment buildings. Local opposition to the planned Marincello project south of Tennessee Valley grew rapidly and the plan was blocked by citizens in 1967 working together with the Nature Conservatory and federal officials. The land eventually became part of the Golden Gate National Recreation Area (GGNRA).
Homestead resident Geoff Barrett represented the Homestead Valley Community Association (HVCA) in the 1960's at public hearings regarding the Point Reyes National Seashore, and he had a vision for Homestead Valley.
On December 22, 1971, Geoff wrote a letter to community leaders in the HVCA explaining that in Homestead Valley there was undeveloped land abutting the GGNRA that might be developed within the next few years. A committee of the HVCA decided to try to pass a local bond issue to buy the open space land in and around the valley. It was an opportune moment, as land values had yet to undergo rapid inflation. With Geoff providing inspiration, Howard "Mike" Cann agreed to head up financing, Martin Rosen provided legal and organizational help, and Al Wuthnow headed publicity to encourage residents to vote for the bond issue, effectively taxing local residents, to pay for these valuable local lands in Homestead Valley.
On September 18, 1973, the voters passed a $600,000 bond issue. There were 529 yes votes (79%) and 138 no votes. Added to that were funds from the sale of HVCA's Brown's Hall and $200,000 in matching funds from Marin County to purchase over 85 acres of open space land, much of which borders land purchased by GGNRA, and the site of the current Homestead Valley Community Center. The first purchase was the planned Alpine Meadows subdivision. Other major purchases were the Cowboy Rock parcel, Rancho del Tope', the Diaz Ranch, and the two parcels that combine to form the public part of Three Groves.
Additional open space was acquired by two major donations. Virginia Stolte donated a 50% interest in what is now Stolte Grove, and Betsy Weedon donated a large parcel containing Redwood Trees on the south side of LaVerne Avenue across from Stolte Grove.
All of this land was then handed over to the Marin County Open Space District, which became its legal owner. The bonds were retired in 1993.
In 1974, the Homestead Valley Land Trust (HVLT) was formed, under contract with the CSA 14 and the County, to be the custodian of the Homestead Valley open space and park lands. On January 15, 1976, the State of California officially recognized the Articles of Incorporation of the HVLT. It was one of the first land trusts of this type in the nation. The founding trustees were Geoffrey Barrett, Howard (Mike) Cann, Louis Harding, James Shea, Virginia Spalding, Charles (Chuck) Oldenburg, Eric Stoelting, Jan MacNichols and Carol Radenzel.
In early 1993, voters approved a ten-year $90,000 bond issue by an 81% to 19% margin. Funds were used for additional fire-protection work, to make improvements in Stolte Grove and in Three Groves, to make improvements to the HVCA pool, and to do some work in the Community Center meadow. Because of favorable interest rates, the bonds were paid off in less than ten years.
As custodian of the land, HVLT has proceeded to protect and maintain the land, build and maintain trails, reduce fire fuel, remove hazardous trees and limbs, and maintain the three parks (Volunteer Park, Stolte Grove, and Three Groves). Funding for HVLT comes from real estate taxes paid by residents of the unincorporated territory of Marin County known as Homestead Valley (CSA#14).
On August 25, 2009 residents of Homestead Valley again voted to tax themselves by approving a new $125 per parcel tax (Measure A) to provide additional funds for HVLT and HVCA. This tax increases by 2% per year to fund work to maintain the open space and reduce fire fuel. Funds from this parcel tax are also being used to make the Community Center ADA compliant and improve its ability to withstand earthquakes.
Today the role of the HVLT remains the same as it was when it was established in 1974.